Pat Brennan Endorses Jon Lynch for Colchester
August 7, 2020
Jon Lynch
1,922 views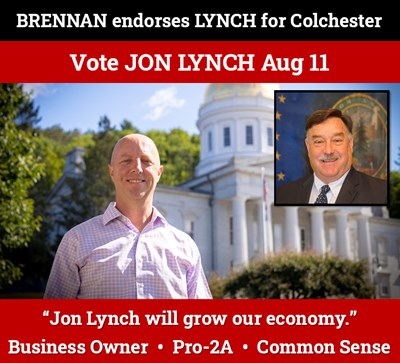 Colchester, Vermont, August 7, 2020: Eighteen-year Republican incumbent for Colchester District 9-2, Pat Brennan, has issued an endorsement for Jon Lynch. The hotly-contested 2-seat district has a Republican primary this year with three candidates seeking office - Pat Brennan, Jon Lynch and Alexander Darr.
Said Lynch:
I am excited and honored to have received Pat's endorsement. Pat has served Colchester in the Vermont House of Representatives for as long as I've called Colchester my home - since 2002. His impeccable record speaks for itself. I look forward to serving with Pat in Montpelier.
Montpelier-hopeful Jon Lynch - a small-business owner and software engineer of over 30 years - hopes to represent Colchester to grow the economy, address the Opioids epidemic and save Vermont's beleaguered state college system.